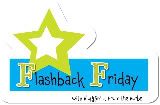 July's theme: Holiday Road. Post photos of past vacations.
I just recently stumbled upon Bloggin It from the Burbs who hosts Flashback Friday. This months theme encompasses past vacations. I thought it would be fun to post some photos from our trip to Disneyland last October. I hadn't even post processed them yet because it was before I even knew how that we went on the vacation. So I decided that this was a good opportunity to do that.
When Mr. A turned 4 years old my parents decided that they wanted to celebrate by going to Disneyland. You would think that He would be the most excited out of all of us to go to the Happiest Place on Earth. However, I think I was just as excited as he was. You see, I am a huge Disney Fanatic. I love that adorable mouse and all of his cool friends. I own pretty much every Disney movie there is, and it's not because I have children. You can imagine. . .or you can see for yourself!
Don't worry, Mr. A had his picture taken too, he was much cuter standing there with that silly old bear!
 
Nana even took Mr. A to meet the infamous mouse!
This was not the highlight of the trip though. I think Mr. A's favorite part was seeing the Pixar Parade in California Adventure. Here are some photos of the parade sure to please!
Mr. C got to go too, he didn't have nearly as much fun, but still I think he enjoyed himself.
and of course, the highlight of my trip, getting our photo taken with Goofy!
  and if that wasn't enough, Daddy and Aiden went on bumper cars and flying in Fliks invention.
This family trip was one to remember. Mr. A doesn't know yet but next week we will be heading to Six Flags Marine World. We can't wait to take him to see the Whales, he is going to love it.
This has been fun, I can't wait to share next week!