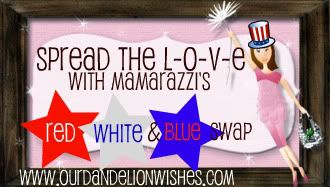 I've been having so much fun lately participating in swaps hosted by Mamarazzi at Dandelion Wishes!! I received my Red, White, and Blue Swap package from Noelle at Little Bits and Pieces of Me and boy was I excited!!
The Package 
Couldn't wait to open it!
The Red White and Blue contents
Red White and Blue sprinkles, and cupcake holders, with a Family Fun Magazine
She got me Red, White, and Blue Old Navy Flip Flops and Red Yummy Country Apple Lotion
She sent my kids Red and Blue Star Head Bands, and Red, White and Blue Hot Wheels
Sidewalk Chalk for the Boys too!!
Summer Scrapbook Stickers!!
Fourth of July Scrapbook Stickers!!
The cutest 4th of July card Ever along with a magnetic list tablet for my fridge!
Wow, thank you Noelle! What a fabulous swap package. We will definitely take some photos of the boys in their headbands today!! Click on over to see what I got her here! Happy Independence Day everyone!!