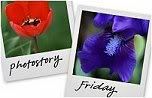 Over at Better in Bulk Lolli has changed things up a bit. She is now paring up with Ceicily from My Chaos My Bliss with Photography Friday.  Instead of just one shot from the week that we may love, it's a whole story of photos. This week they want to know what has been going on in our house. Since we haven't been hanging out at home much, I will share once again what we did over the weekend.
Little Fire Chief won first place in the kiddy parade.
After the excitement, he was hungry so we headed to eat.
Then we went to watch some firefighters play!
Little Fire Chief and his brother were in the big Labor Day Paul Bunyan Parade with hubby for winning first place in the kiddy parade.
while I got to sit and take photos of the event.
It was a great weekend, but I'm sorry to say it has ended. Back to the daily grind of laundry, cooking, cleaning, and school.  Don't forget that I am trying to come with a new blog handle for Mr. C! Can you help me?
Have an awesome weekend everyone.