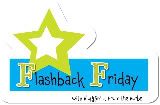 Melinda over at Blogging it from the Burbs is at a it again with Flashback Friday. This weeks theme is Water Water Everywhere. That's right, everything and anything involving water. I thought I would take this opportunity to post more photos of Mr. A & Mr. C at Six Flags since there are tons of water photos.
Mr. C enjoying a cool off break.
Mr. A running around the water during our cool off break
We visited Thomas Town and Mr. A got to experience The Water Works while Mr. C had a nap.
and then of course there were water animals
and flirting by the water with ladies from Sweden.
I hope you enjoyed our water experiences as much as we did!
Thanks for going on this walk down memory lane with us, even if it was just three days ago for us.